Museum Tower Kyobashi Project Wins ABB Leaf Award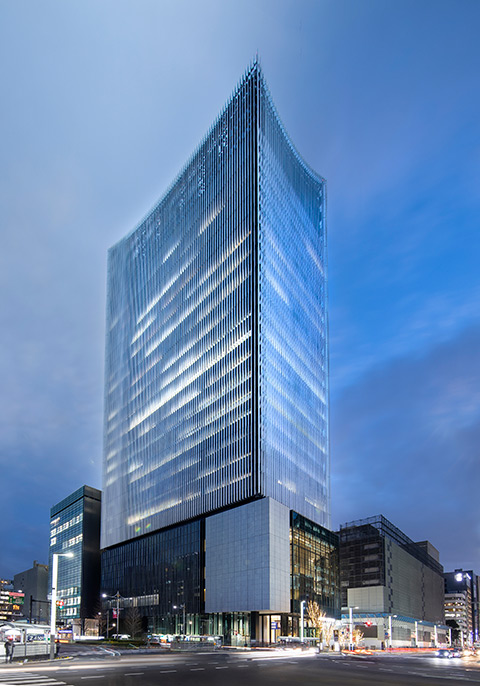 Museum Tower Kyobashi photo by: Harunori Noda (Gankohsha)
(TOKYO) -- A Nikken Sekkei design team took home ABB LEAF's 2020/2021 Best Mixed Use Building Project for its Museum Tower Kyobashi project. Results were announced on Oct. 14 in London.

Located near JR Tokyo Station, the 150-meter high, 23-floor tower represents an innovative hybrid design that houses both high-grade tenant offices and the Artizon Museum, formerly known as the Bridgestone Museum of Art.

Architectural Design Department Director Masanori Yano and Global Design Dept. Engineering Director Ken Miyoshi headed the project team for clients Nagasaka Corporation and Ishibashi Foundation.

Completed in July 2019, the Museum Tower is described as "a super high-rise that integrates offices and a museum, fulfilling the concept of opening to the city and connecting to the environment." The design's intent was to honor the philosophy of Bridgestone Corporation founder Shojiro Ishibashi (1889-1976), who strove to create cutting-edge architecture on the site he started in 1951. In doing so, it attempts to express a new value system that embodies the latest social environment and technologies. The facility also lies at the heart of a special urban renewal district.

The ABB LEAF (Leading European Architects Forum) Mixed Use Building Award recognizes projects completed between January 2018 and May 2021 that blend two or more distinct functions. Nikken Sekkei's entry had been shortlisted along with entries from Dubai-based Zaha Hadid Architects and ingenhoven architects of Germany.

The accolade is actually Nikken's third for the same project. In May, Museum Tower Kyobashi garnered the 2021 CTBUH (Council on Tall Buildings and Urban Habitat)'s Award of Excellence for Best Tall Building 100-199 meters, as well as its MEP Engineering Award.

The façade of the upper part of the tower is perhaps its most distinctive external feature. Based on traditional Japanese architecture with balconies for maintenance, it is covered with louvers made of 80mm extruded aluminum whose placement and orientation differ depending on the direction they face. Louver positioning was determined by computational analysis that factored for solar control, glare control, and energy conservation.

"On a technical level, the choices for louvers, energy-saving HVAC and other systems were made in consideration for keeping life-cycle costs down," explained Mr. Yano. "Nowadays, buildings are being made more and more sustainable, which means a longer life of use, and cost savings that can really add up over time."

Another key feature is the skip floor-style rooftop garden spanning the 21st to 23rd floors. The building has been designed in a "planer configuration" in which the rooftop garden edges into the interior area of the office space.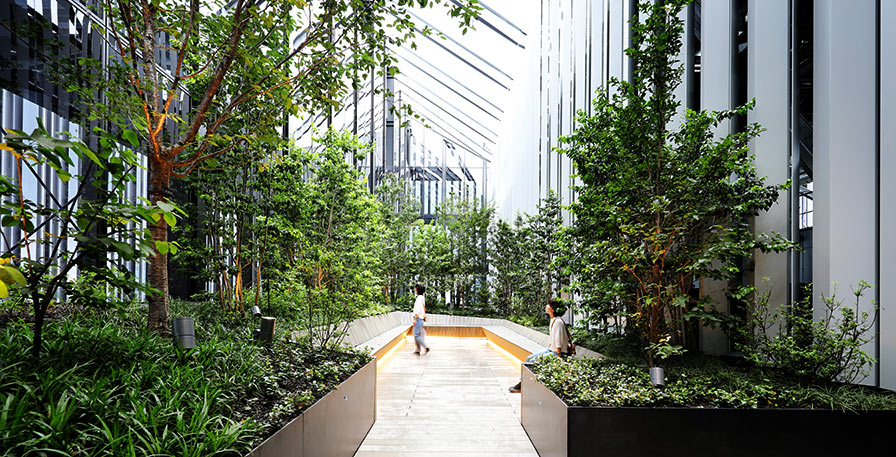 Rooftop Garden photo by: Harunori Noda (Gankohsha)
"The building is not just a commercial space, but adds to the environment, creating a 'green' office space," says Mr. Yano. "In Japan, it's a one-of-a-kind hybrid that we hope may serve as a kind of prototype for urban art museums around the world."

Located on the first to sixth floors, the Artizon Museum's interior is composed of spaces of diverse widths, depths and heights arranged with a structural discontinuity akin to a three-dimensional alleyway. The art collection within it features renowned works from painters such as Monet, Cézanne, and van Gogh. An ongoing local redevelopment effort will see the installment of "Art Square," an area adjacent to the tower dedicated to art and culture, in 2024.

Client input throughout the project's design was frequent and fruitful, according to Mr. Yano. "Much of the 'open-space' building philosophy was given liberal effort in consideration of the unfolding COVID-19 pandemic. It turns out that the idea was right in line with the forthcoming needs of the time."

"The company has a lot of expert architects, structural engineers and MEP engineers, so getting help or an opinion from somebody or somewhere else in the company is as easy as a phone call away," he adds. "Teamwork like that is great when your mission is to be on the cutting edge of innovation like we are. Mixed-use facilities are probably going to be a mainstay design philosophy for the foreseeable future."