Nikken at Cityscape Global Dubai 2018
In over 10 years of presence at Cityscape Global Dubai, the Nikken Group has established its presence in the market, and has been granted with several large-scale developments, constantly expanding its portfolio and network. During this 17th edition, the Nikken Group's booth will focus, in particular, on the "Experience, Integrated" approach, and will showcase some of the most anticipated projects for the near future.
From the world's tallest wooden structure in Tokyo, to the upcoming Futur Camp Nou in Barcelona, to the first large scale smart city development in Russia, and many more; the stand will show the Nikken Group's muscles on the "design plus sustainability" front. Amongst others, the 100% sustainable "Cool Tree" project will present the efficiency and effectiveness of an environmentally friendly structure, designed to cool down the City of Tokyo during the 2020 Olympic Games.
At the same time, a first peak at W350, the skyscraper planned to be the world's tallest wooden structure, will reveal its combination of wood and steel, towering 70 storeys above ground, in which wood accounts for 90 percent of the construction material. Rising in the centre of Tokyo, W350 will also become the tallest building in Japan, overcoming the other Nikken Sekkei's iconic building, Skytree.
The Preobrazhensky project presents the concept of a smart city with advanced technology, connectivity, and improved resource saving and cost reduction without relinquishing any of the comfort and luxury of a superior life-style. Preobrazhensky is a place built on an intelligent platform capable of improving citizens' welfare, enhancing their comfort and their interactions with the environment, and responding to their specific everyday life needs.
Nikken is welcoming guests and visitors at HALL 4 – 4D30.
With an expected turnout of approximately 50,000 visitors, Cityscape Global is recognised as the annual barometer for the real estate industry in emerging markets, and is one of the largest and most influential real estate events held globally. Cityscape Global supports real estate growth worldwide to an international audience, highlighting iconic architecture, significant developments and unparalleled investment opportunities.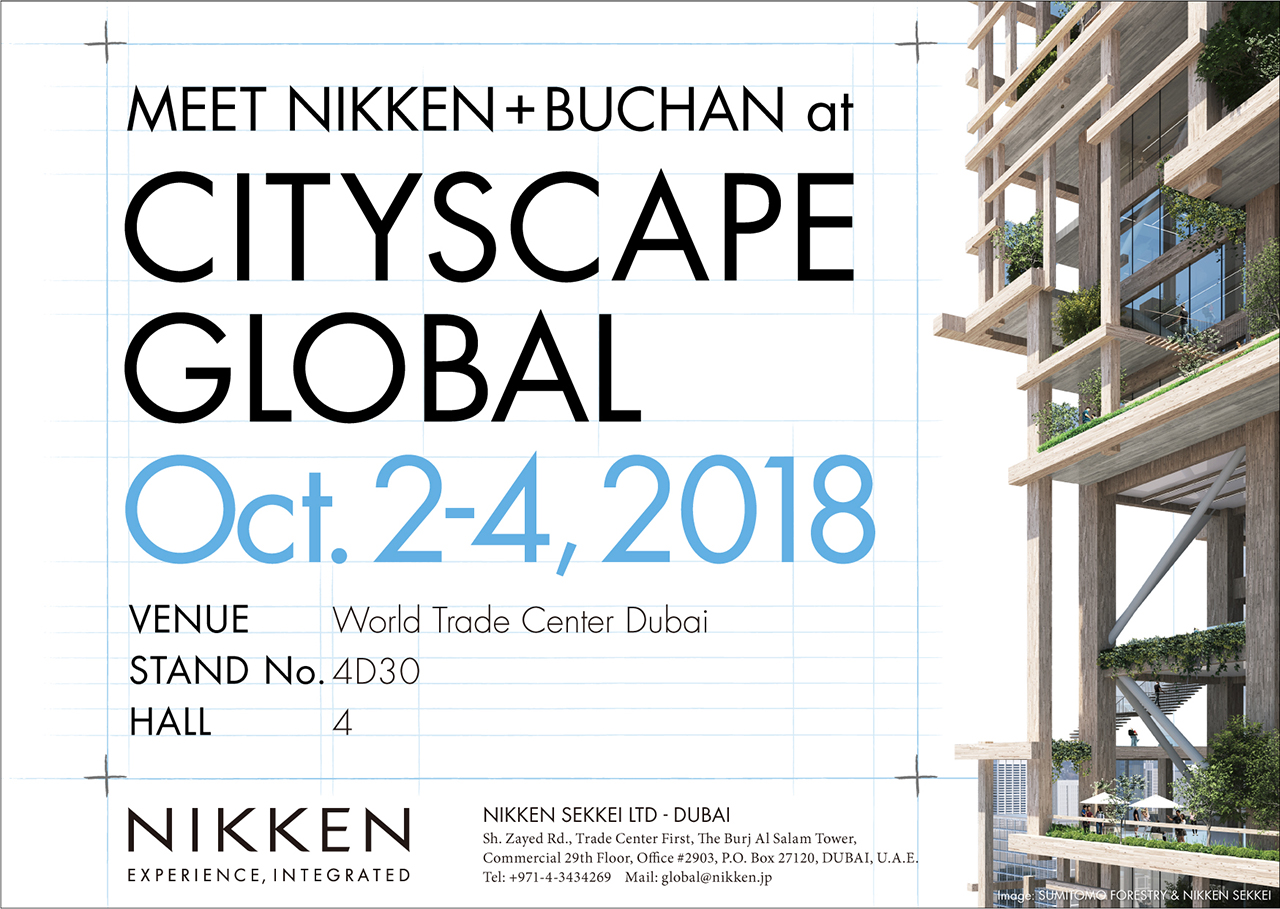 MEET NIKKEN+BUCHAN at CITYSCAPE GLOBAL Oct.2-4,2018