Nikken Sekkei Designed JR Kumamoto Railway Station Building Wins
International Living Future Institute's 2022 Biophilic Design Award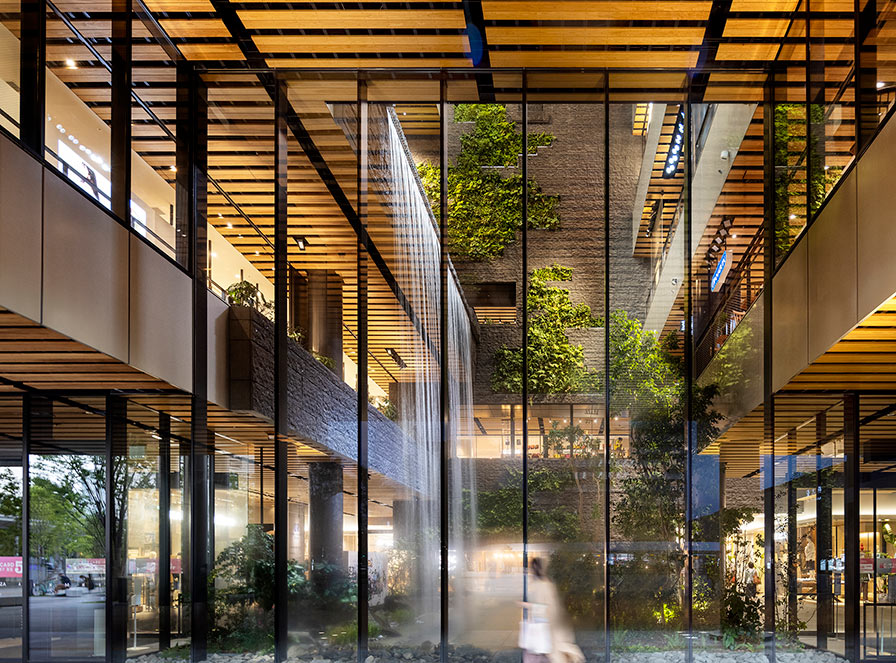 Harunori Noda [Gankohsha]
(TOKYO) – The Nikken Sekkei designed JR Kumamoto Railway Station Building project has won the International Living Future Institute (ILFI)'s 2022 Stephen R. Kellert Biophilic Design Award. The annual award recognizes achievements in buildings, interiors, and communities that demonstrate the principles and benefits of biophilic design, which seeks to connect people and nature in the built environment. The announcement was made on May 12 during ILFI's two-week Living Future 2022: Restoration + Justice summit.

ILFI acknowledged the project's unique natural attractions. Located in Kumamoto Prefecture in western Japan, the facility's centerpiece is the "Boken no Mori" ("Adventure Garden"), a large indoor multi-floor garden of water and greenery that extends from the 1st through the 7th floor. The atrium is stepped to allow natural light inside, while dozens of plants that naturally grow in Japan are arranged in an environment optimized via digital simulation. Incorporating nature into the interior design yields a rich environment where visitors can immerse themselves in a leisurely forest stroll.
Harunori Noda [Gankohsha]

Harunori Noda [Gankohsha]
The Stephen R. Kellert Biophilic Design Award is named for the late Dr. Stephen R. Kellert, an award-winning pioneer in articulating and applying biophilic design principles to the built environment. Formerly a Senior Research Scholar at the Yale University School of Forestry and Environmental Studies, his work and advocacy focused on understanding sustainable design and development.

The International Living Future Institute is premised on the belief that providing a compelling vision for the future is a fundamental requirement for reconciling humanity's relationship with the natural world. ILFI created the Living Building Challenge, one of the world's most rigorous green building performance standards.