Nomination of the W350 Project, aiming to realize a supertall wooden skyscraper, as a MIPIM Awards 2019 finalist
The W350 project, which Nikken Sekkei is collaborating in, has been nominated as a finalist in the Best Futura Project category of the MIPIM Awards 2019.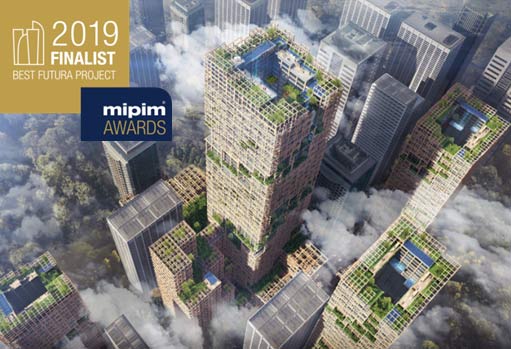 The W350 Project is a research and technology development concept to build a 350-meter high timber skyscraper by 2041, the year Sumitomo Forestry Co., Ltd. celebrates the 350th anniversary of its founding. With the aim to create environmentally-friendly, timber-utilizing cities that are transformed into forests through wooden high-rise buildings, this project will contribute to people, society, and the global environment through futuristic technologies including the development of building methods, eco-friendly technologies, and trees as resources and building materials.
Sumitomo Forestry is responsible for the project concept and lumber engineering, and Nikken Sekkei is responsible for the architectural design and structural design of the emblematic 350-meter high wooden building.
MIPIM Awards is an internationally-renowned competition with awards bestowed on excellent property developments for their innovativeness or outstanding accomplishments. For the 2019 Awards, the 11 categories had over 200 entries from around the world.
The W350 project was nominated for Best Futura Project, a category that awards projects that could have innovative impacts on the future in architectural, technical and environmental aspects.
The award winner of each category will be announced at a ceremony held at MIPIM, a world-leading real estate event.
URL:www.mipimawards.com/mipimawards2019/en/page/shortlist
■MIPIM(Marché International des Professionnels de l'Immobilier)
MIPIM is a world-leading real estate exhibition, conference and networking event, which has been hosted by Reed MIDEM each March in Cannes, France, since 1990. This year it will take place over the four days from Tuesday, March 12 through Friday, March 15. Around 26,000 people, including developers, investors, and government officials, from 100 countries from around the world are expected to attend this event.