Nikken Sekkei Invites You to Discover
Three New Airports and the Company's Design Approach
At 29th Passenger Terminal Expo, ExCel London, stand 8020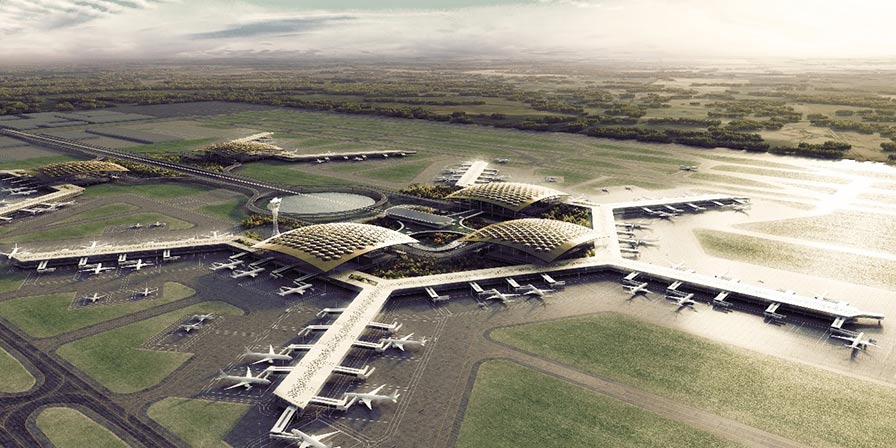 View over Dhaka New International Airport
From the 26
th
to the 28
th
of March 2019,
Nikken Sekkei
is introducing three of its latest aviation projects, along with some distinguished others, at the 29th edition of Passenger Terminal Expo at ExCel London, the world's largest annual airport exhibition. Members of
Nikken Sekkei's Aviation Design Team
will use relevant case histories to provide all information about
Life Cycle Design
(new building, maintenance, client support, expansion without operation disruption, etc.);
environmental and local culture-friendly design;
low-cost/superb level of service and design
;
outstanding structural engineerin
g,
Japanese technology
(climatic control system).
The three latest projects displayed include
Dhaka New International Airport
in Bangladesh,
Suvarnabhumi International Airport Terminal 2
in Bangkok (Thailand), and
Shimojishima Airport
in Okinawa (Japan).
Dhaka New International Airport
, named after the father of Bangladesh
Bangabandhu Sheikh Mujibur Rahman
, takes inspiration from his dream,
Sonar Bangla or Golden Bengal
, and releases a strong image of Bangladesh's rich culture and history. Operating as the main gate to the nation, this new terminal will offer high accessibility during each phase of its construction, allowed by its multiple access layout.
The whole configuration of the terminal complex also enables it to work as a mega terminal during its final phase of development.
Suvarnabhumi International Airport Terminal 2
is one of the biggest international airports in Southeast Asia and a regional hub for aviation. As part of Bangkok's Suvarnabhumi airport's third phase of development, Terminal 2 is expected to reach 90 million passengers per year. The design comprises two modular structures supported by distinctive wooden columns that appear as giant trees. These enclosures cover a total of 348,000 square meters. The key feature is an indoor forest, which spans 16,132 square meters, designed to demonstrate "how human beings could inherit the natural tropical ecological system".
Shimojishima Airport
, Japan's first-ever airport terminal built with CLT (
Cross Laminated Timber
)*, large-dimension wooden panels, formed by laminating layers of sawn lumber perpendicular to each other.
Shimojishima Airport
has been designed to reduce primary energy consumption by 68% compared to the average domestic terminal buildings and it has been awarded with the ZEB Ready rank. Its overall design promotes the sense of arrival to a paradise island, where lush plants, greenery, and abundant natural light and breezes accompany travelers and personnel from gates to doors.
*Under the FY2016 Demonstration Project of Buildings using CLT, and under the Assistance Program for Creating Foundation for the Revitalization of Forest/Forestry, both offered by the Forestry Agency of Japan.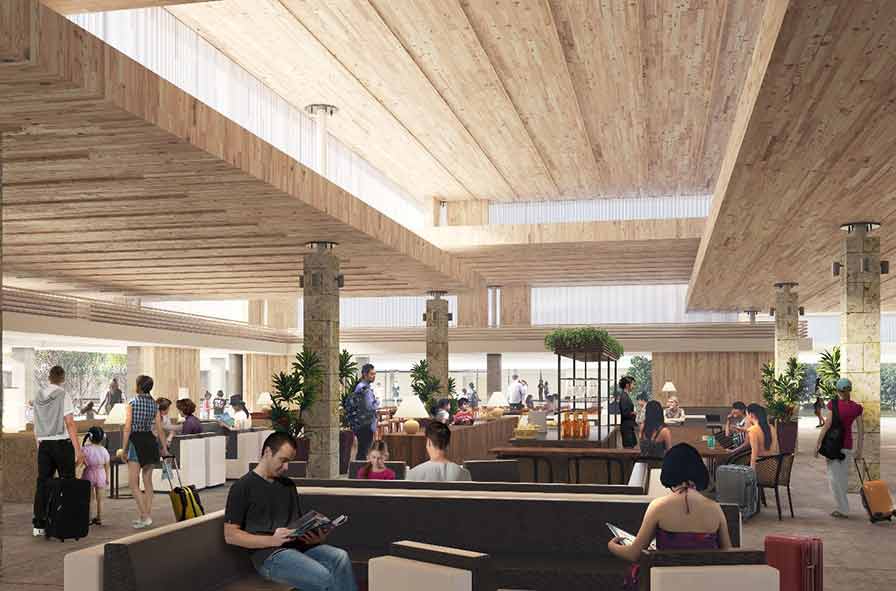 Inside the Shimojishima Airport
Along with the above new entries, visitors will be able to learn more about
Nikken Sekkei
's approach in designing for the aviation sector through
Narita T2 Expansion
,
New Chitose Airport
,
Centrair Airport
, and
Narita T3
, the low-cost carriers' terminal that introduces new values and new airport experience for passengers.
Find out more about Narita T3 here:
www.nikken.jp/en/expertise/architectural_design/low_cost_does_not_mean_Less.html


Passenger Terminal Expo is a free-to-attend Aviation Exhibition, covering over 17,000 square metres. It provides a unique opportunity for visitors to discover the very latest products, services and technologies, with 300+ exhibitors showcasing the very latest innovations and solutions to enhance efficiency, safety and the passenger experience for airports across the globe.
www.passengerterminalexpo.com/floorplan.php?n=exhib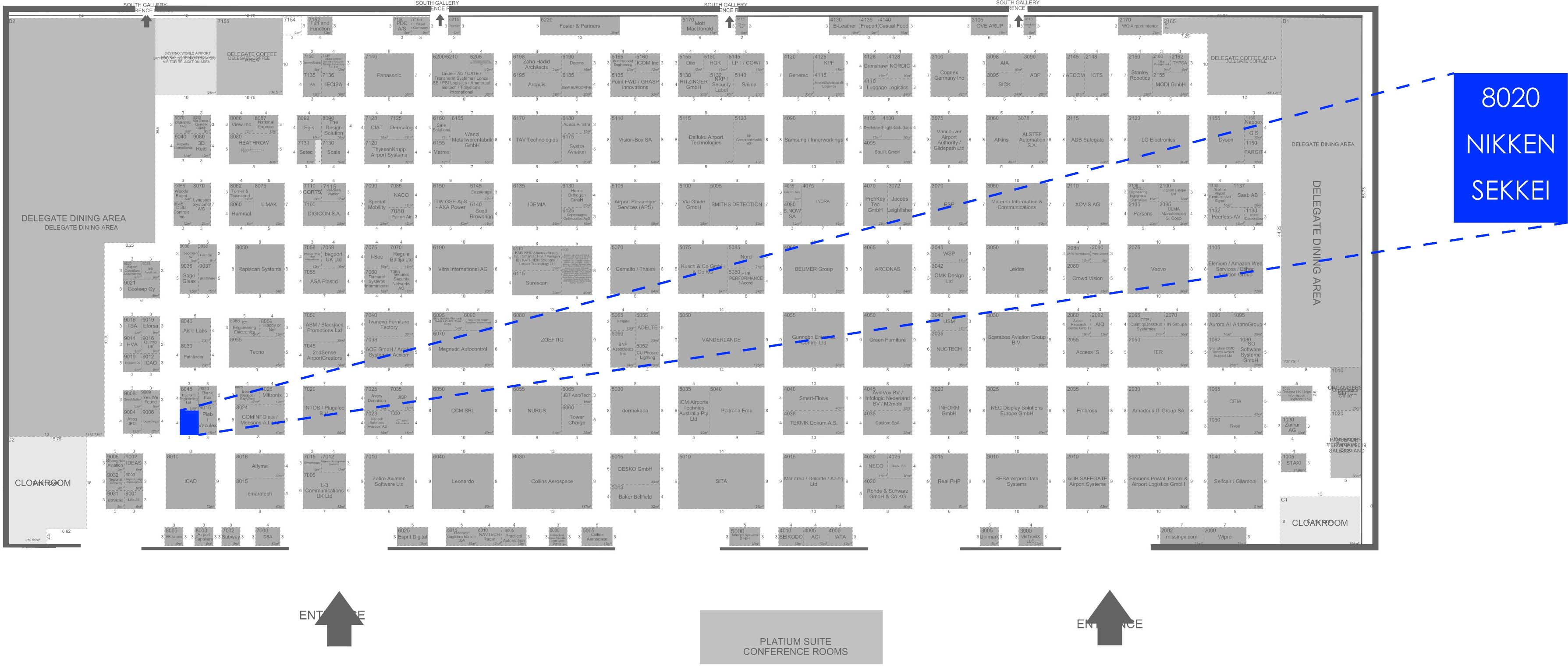 Floor Layout and Stand Location of NIKKEN SEKKEI