Opening Ceremony Held for Nikken Sekkei (Thailand)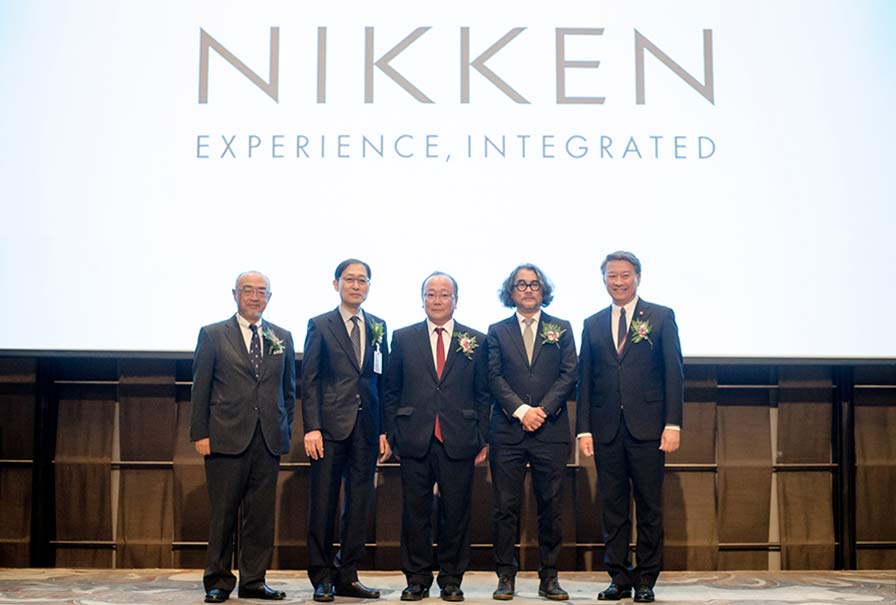 From left: H.E. Mr. Shiro Sadoshima (Ambassador of Japan to Thailand), Mr. Tadao Kamei (President & CEO, Nikken Sekkei), Mr. Masakazu Kimura (Managing Director, Nikken Sekkei (Thailand)), Mr. Duangrit Bunnag (DUANGRIT BUNNAG ARCHITECT LIMITED (DBALP)), and H.E. Mr. Bansarn Bunnag (Ambassador of Thailand to Japan)
Nikken Sekkei held an opening ceremony for Nikken Sekkei (Thailand) Ltd., a Thai subsidiary jointly established with DUANGRIT BUNNAG ARCHITECT LIMITED (DBALP), a local partner in Thailand, at THE OKURA PRESTIGE BANGKOK on March 22nd.

More than 150 people attended the ceremony, including H.E. Mr. Shiro Sadoshima, Ambassador of Japan to Thailand, and H.E. Mr. Bansarn Bunnag, Ambassador of Thailand to Japan.

Ambassador Sadoshima, who delivered a congratulatory message on behalf of the event's guests, touched upon the progress of recent infrastructure development projects by the Thai government and aging societies, and expressed Japan's intent to further support growth in Thailand this year, the 132nd year since friendly ties were formally concluded between Japan and Thailand. H.E. Mr. Bansarn Bunnag, Ambassador of Thailand to Japan, offered words on the history of using Thai rice as raw materials for awamori (millet brandy) in Okinawa and the country's expectations of Nikken Sekkei for the development of the building industry in Thailand.

With the establishment of Nikken Sekkei (Thailand), Nikken Sekkei will strive to make contributions to both Japan and Thailand using technology and to also serve as a bridge between the cultures of both countries.
NIKKEN SEKKEI (Thailand) Ltd.

11/1 AIA Sathorn Tower BLDG., 22nd Floor, Room 2203/1, South Sathorn Road. Yannawa, Sathorn, Bangkok, 10120 Thailand (Office located on the 22F of AIA Sathorn Tower, home to a number of global companies in the Sathorn district in the center of Bangkok's commercial area)

Manegement Director:Masakazu Kimura
TEL : +66-2-285-1233
FAX : +66-2-285-1232
Business Start Date:September 1st 2018(Company registration completed: June 21st 2018)

Established as a base to support the design (BIM, 3D CAD operations, document production, etc.) of overseas projects commissioned to Nikken Sekkei and as a sales base in Thailand