"Public Spaces for People" Raise City Values
Scroll Down
Public places such as roads, station squares, parks and waterfront areas have grown increasingly important in recent years. As spaces where people interact and engage in activities, they are being reconsidered as hubs to promote city revitalization. Countless public spaces prioritizing automobiles and emphasizing efficiency were built during Japan's historic era of economic growth. But now that they are maturing, movements to remake them into attractive, people-friendly spaces have emerged.

The Civil Engineering Group, Urban and Civil Project Department, Nikken Sekkei (hereinafter called "Civil Engineering Group"), a group of civil engineering professionals, has been involved in the design of numerous public spaces, both in Japan and overseas. Putting to work our collective experience and the latest design technologies, we have undertaken scores of challenging projects that have transformed existing public spaces into spots where people can gather and relax.

As Asian cities mature, plans must be developed that provide a balance between the infrastructure needed for current growth and measures needed for changes in values that will emerge when cities eventually mature. Going forward, Japan's advantage in cutting-edge planning know-how will be significant. Allow us to demonstrate the types of planning and design services we can offer for creating high-quality public spaces, along with some leading examples.
1.Integrating an urban design perspective
When designing a public space that is at once familiar and blends in with a city, it is important to consider not only the area within the site, but also the terrestrial context as a whole, including its history, traffic conditions, landscape, local features, and the surrounding buildings that have become part of its story. In other words, the key to success lies in an "urban design perspective" that takes a bird's-eye view of the entire city.

This requires close collaboration by specialized teams in urban planning, architecture, civil engineering and landscaping that can transcend disciplinary boundaries. The Civil Engineering Group collaborates with specialists in other fields from Nikken Sekkei and Nikken Sekkei Research Institute. The "comprehensive skillset" of the Nikken Group is one of our strongest points when undertaking a project.

The open space around the Sakuramachi-Hanabata area in Kumamoto City is a practical example of Nikken Group-authored integrated urban design. Located between Kumamoto Castle and the mid-city shopping district, the 16,000-sqm plan calls for a multi-purpose area that may include parks, plazas, roads and buildings. This design is based on the concept of Kumamoto Castle and Gardens as the "Great Hall of the City" for its transformation into an integrally connected public space. Its redevelopment is expected to raise the comfort level of the entire area and boost navigability.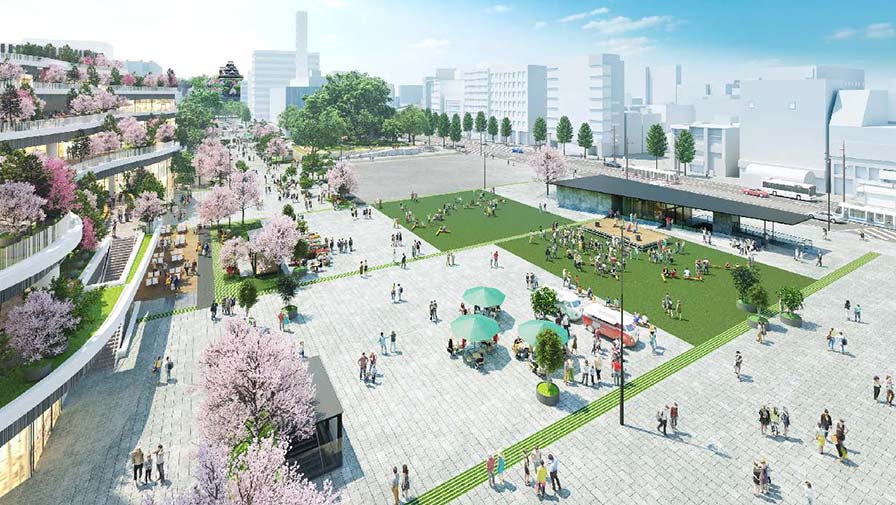 2.A long-term vision for "roads"
During Japan's post-WWII rapid economic growth period, automobile-centric road planning focused on easing and smoothing out vehicular traffic in order to help move people and goods as efficiently as possible. Today, Japan needs to transform roads into pedestrian-oriented spaces, in line with similar trends around the globe. We believe that in the future, roads will transition from "walkable streets" to forums offering pedestrians an enriched urban lifestyle.

A restructuring project in Osaka City, western Japan's largest city, looks to transform Midosuji, its main boulevard, into a world-leading, people-centered street area. The stage-by-stage plan calls for consolidation of the current six-lane road configuration into four lanes, with side roads converted into pedestrian spaces. While conducting simulations on the impact of traffic on the surrounding area, we aim to eventually do away with roadways in favor of developing a full-scale mall where people on foot and those using different modes of transport can safely co-exist. We expect that the full mall will allow for more human interaction and create a sense of vibrancy and innovation.

The staged, long-term redesign plan affords flexibility in incorporating evolving technologies in response to changing times. At present, traffic congestion is an issue in major cities throughout Asia. The prescription for this problem lies in renovation plans that both ease traffic and accommodate future changes in traffic conditions and values. The Civil Engineering Group offers proposals and long-term visions that make implementing such plans feasible.
3.Applying social experiments to design and consensus building
In Europe and the U.S., "tactical urbanism" has become a movement where small actions taken in cities result in long-term change. In Japan, social experiments that incorporate this concept have begun with the restructuring of road spaces and other areas. Practical know-how in Japan, where safety laws and regulations are strict, has been updated more than in Europe and the U.S. in terms of safety improvements.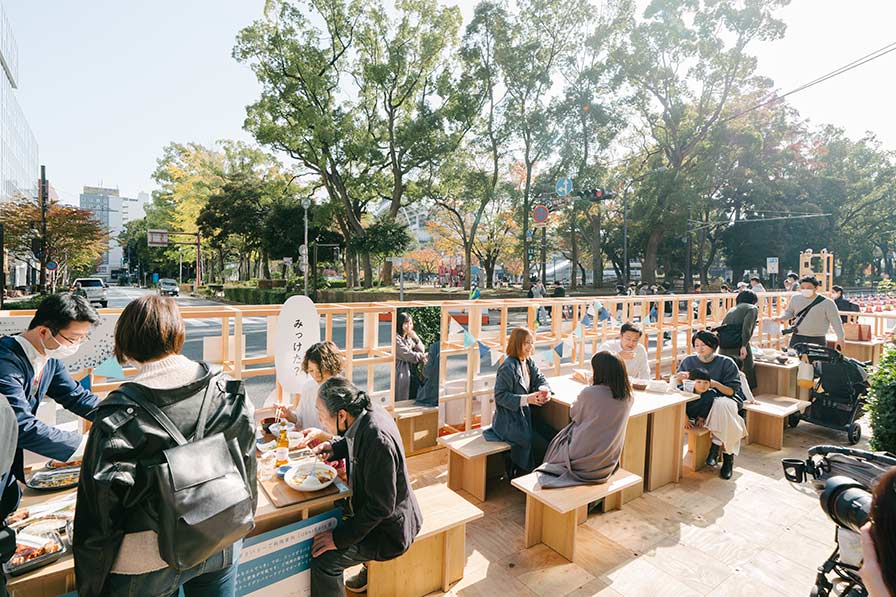 Yokohama City's social experiment on reconstructing Minato-Ohdori and the roads around the Yokohama Cultural Gymnasium imposed restrictions on some sections of roads, while sidewalks were widened to verify the impact on traffic and walkability. A wooden deck and free tables and chairs were set up on the sidewalk, encouraging residents to rest and eat. A survey found that more than 80% of respondents rated the experiment as good, and said they expected the redeveloped sidewalks to play a role as a space for sitting, resting and walking.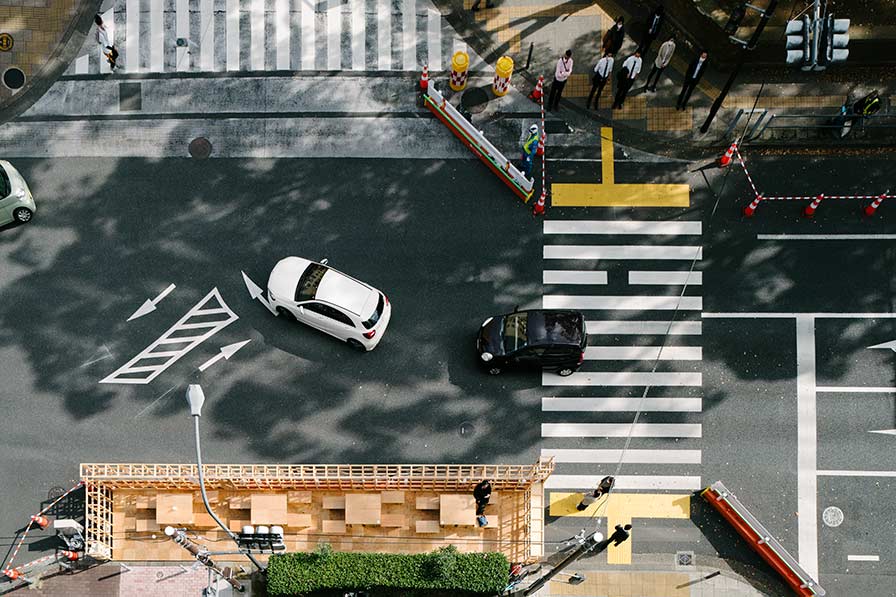 Knowledge gained from this experiment will feed back into the detailed design. It will also help to build consensus with local governments, police, residents, and other stakeholders. Social experiments such as this can be used to clarify issues that cannot be understood from plans and drawings alone, and provide optimal solutions that ensure projects are realized.
4. City design begins with open spaces
Parks represent invaluable open spaces for cities, and the COVID-19 pandemic in particular shined a spotlight on familiar parks where people can enjoy nature, outdoor air, and exercise.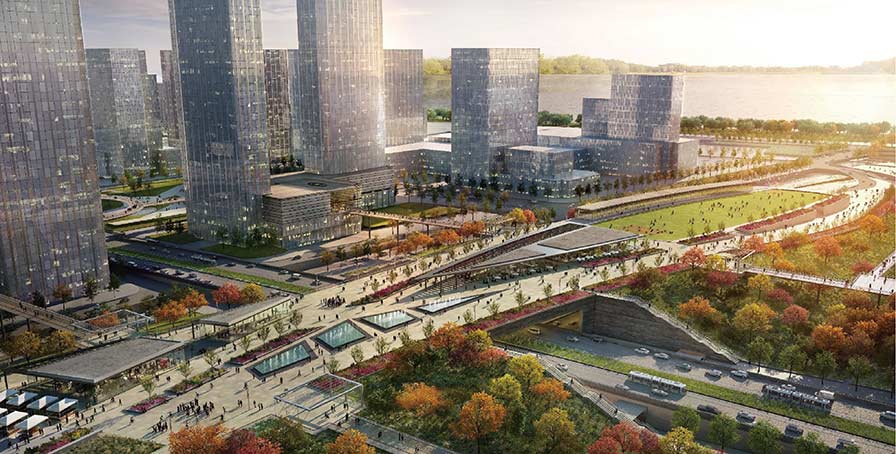 The Civil Engineering Group plans and designs parks on various scales. China's Nanjing Eco Hi-Tech Island is one example of an urban design that uses a park as its starting point. The Nikken Group was responsible for the plan to create a new city on an island in the suburbs of Nanjing. Parks were planned in a variety of sizes, making use of existing green areas. After clarifying each park's function, detailed studies were made on the layout, scale and design image.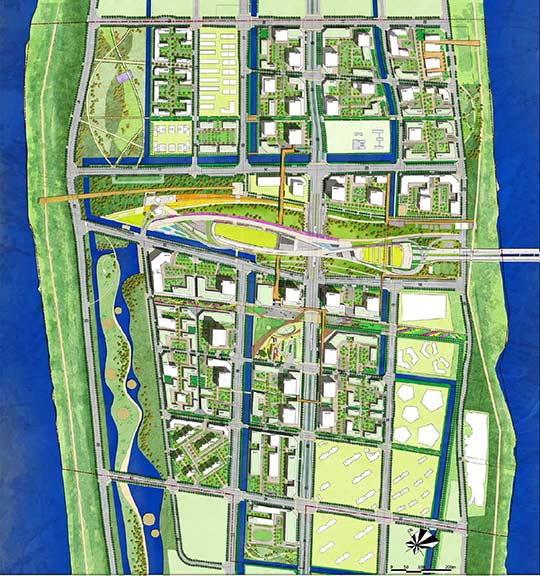 One focal point of this project is the park located in the center of the city. A multi-level intersection at the main road and expressway posed a problem as it divided the city into north, south, east and west sections. Nikken Sekkei's plan called for building an expansive park on top of the road -- similar to an artificial island -- to connect the city. This central park thus functions both as an open space for residents as well as an urban facility with an important role. We believe cities with exceptional public spaces can attract private investment.
5.Revitalizing small infrastructure to meet changing times

Not long ago, telephone booths could be found on every city corner. In a way, these functioned as tiny public spaces. While many have disappeared as cell phones proliferated, some remain for emergency use.

Nikken Sekkei has partnered with NTT West on the Pios project to renovate telephone booths on Midosuji, the main boulevard in Osaka. In addition to standard public phone capabilities, the units have added features such as Wi-Fi, charging outlets, map search functions, and other services for everyday use. Their revival illustrates the role of practical infrastructure in meeting changing times. Pios also demonstrates the company's flexible capacity to develop both large and small-scale projects throughout Asia.
~~~~~~~~~~~~~~~~~~~~~~~~~~~~~~~~~~~~~~~~
Public spaces designed for comfort and enjoyment enhance a city's value. At the Civil Engineering Group, by keeping ahead of cities and technology we innovate public spaces for people while flexibly responding to changing needs.

Figure 1: Conceptual plan for the development of an underground space in the vicinity of Tianjin Cultural Center, China, Tianjin Infrastructure Construction & investment (group) co.,ltd.
Figure 2,3: The open space around the Sakuramachi-Hanabata area in Kumamoto City, courtesy of Kumamoto City
Figure 4 (left) and 5 (right): Restructured road space in Midosuji, courtesy of Osaka City
Photo 6 and 7: Social experiment for the redevelopment of Minato-Ohdori and the road around Yokohama Cultural Gymnasium, courtesy of Yokohama City, photography by Hajime Kato
Photo 10 (left) and 11 (right): Pios project, Daisuke Shima